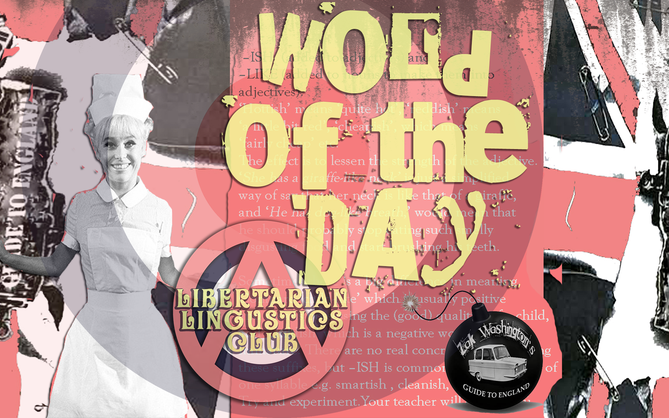 New video to #learn #English 10 fun ways to say 'hello' (Part 1) https://youtu.be/uIEDFfas9Ls #tefl #efl
SPEAK BETTER ENGLISH learning about ENGLISH LANGUAGE and BRITISH CULTURE.
You still don't understand ENGLISH speakers after studying English for 15 years? Why not?
Because you don't understand ENGLISH CULTURE, HUMOUR, STREET TALK, SLANG and the AUTHENTIC ENGLISH LANGUAGE that REAL PEOPLE speak.
The English language, of course, is inseparable from the horrible characters who speak it.
You cannot understand it without understanding the 1000s of CULTURAL REFERENCE POINTS, the important TRENDS, FASHIONS, MUSIC, ATTITUDES and above all THE PEOPLE.
Watching the BBC will not help. Watching the BRITISH COUNCIL will not help. Watching videos called 'How to be very British' will not help.
These are ideologues SELLING BRITAIN as they would like it to be – a sterilized fantasy world where the only reality is that you have to pay for their courses, their official exams. . 
ZAK WASHINGTON is going to take you to a different place and give you 1000s of MATERIALS, COURSES, MAGAZINES & TESTS…FREE
In ZAK WASHINGTON'S GUIDE TO ENGLAND you will learn NOTHING about the WEATHER, AIRPORTS, TOURIST MONUMENTS or CUTE PETS
You will learn about YOUTH SUBCULTURES, CLASS, BETTING, GRAFFITI, ARTISTS, GANGS, ENGLISH FINANCIAL CRIME, the criminal ESTABLISHMENT, the MAIN STREAM MEDIA mafia, HOOLIGANS, the delinquent ROYAL FAMILY, SLANG, IMMIGRATION, ALCOHOL…all the fun stuff!
Let ZAK WASHINGTON take you on a tour of the most HORRIBLE places in ENGLAND to learn the TRUTH about BRITISH CULTURE & LANGUAGE. So throw those books away and C'MON!